Over the past decade, the working world has gone through an upheaval. Freelancers and consultants now make up almost a third of all workers, and they lead an increasingly precarious existence—jumping from gig to gig, constantly scouting for work and often living on the margins.
How did we get here? And how do we navigate this new terrain?
Here's a look at some of those books and what freelancers—and wannabe freelancers—can learn from them.
Read the original article by Richard A. Greenwald on WSJ: The Books You Need to Read to Understand the Freelance World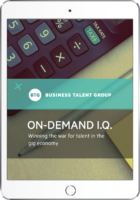 Introducing the New Talent Economy
Learn how to put the gig economy to work on your top business initiatives.
GET THE EBOOK