It is with incredible pride that we announce that our CEO Jody Miller has been named by Fortune Magazine as one of the Top 10 Most Promising Women Entrepreneurs of 2015. She will be honored at the annual conference where Fortune celebrates The Most Powerful Women.
The selection of Jody is in large part a recognition of her vision and unwavering commitment to giving people control over their working lives and alternative paths to leadership.
It is also a reflection of what Business Talent Group (BTG) has accomplished in making flexible work a reality for thousands of independent professionals and in providing 25% of the Fortune 1000 with superior project solutions.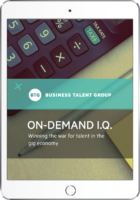 Introducing the New Talent Economy
Learn how to put the gig economy to work on your top business initiatives.
GET THE EBOOK