One of the ironies of our current employment cycle is that millions of people are looking for work at a time when millions of job vacancies go unfilled. According to ManpowerGroup's most recent talent survey, a third of US employers report difficulties filling job vacancies because of a talent shortage, and half of U.S. employers say that talent shortages have a "medium to high impact on business." And these vacancies aren't limited to lower skill jobs – the sixth most difficult job to fill is "management/executive."
How can you get around the talent shortage?
Use independent talent. The report states that the single biggest reason that companies can't fill jobs is because of a "lack of applicants." But not every job needs to be filled by a full-time permanent employee. By 2018, it is estimated that 24 million Americans will be independent workers. Many of these independents are highly educated, skilled and experienced executives, business managers and consultants. Unlike even a decade ago when skilled workers sought the security of a full-time job, many of these workers now choose a life of independence.
"Projectize" the work. Rather than thinking of a job as a long list of responsibilities, think of the key "projects" that need to get done in that role. This may enable you to not only use existing employees more efficiently but make it easier to hire independent workers who are looking for discrete short-term project work. Knowledge-workers, in particular, are often drawn to interesting projects where they can immediately add value and have a key deliverable. Thinking of work on a project-by-project basis is a new paradigm for many companies and does increase the up-front planning required by managers, but it makes the role clearer to communicate and more attractive to many candidates.
Get work done while you sleep. Who says the person needs to be full-time or even part-time or even in your same time zone? There are exceptionally talented workers beyond the US borders, who can do the work "overnight" and have it in your inBbzox by the morning. It's a far cheaper, faster way to get work done. At our own firm, we have relationships with multiple firms who we pay on an as-needed basis. We encourage our consultants to turn to them for support on things like market intelligence, graphics and design, allowing our consultants to focus on what they're good at while getting necessary work done.
We are undergoing a tremendous cultural shift in the workplace, one where flexible work arrangements and short-term assignments are increasingly the norm. The faster an organization can embrace this and recognize its value, the sooner they will find their talent problems eliminated.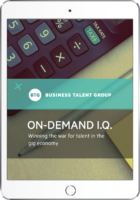 Introducing the New Talent Economy
Learn how to put the gig economy to work on your top business initiatives.
GET THE EBOOK
About the Author

Follow on Linkedin More Content by Jody Greenstone Miller