Today, a talent war is not enough, the most successful companies have to wage a "permanent campaign" to attract and retain talent. The future of work is here.
This was one of my big takeaways from the Milken Global Conference panel I recently moderated on the future of work with five outstanding executives: Peter Grauer, Chairman of Bloomberg, Founding US Chair, 30% Club; Diana O'Brien, Chief Marketing Officer, Deloitte; Alexander Saint-Amand, CEO of GLG, Jon Bischke, co- founder and CEO, Entelo and Beth Steinberg, SVP, People, Brightroll. Here is some of their best thinking:
Successful companies make talent acquisition and development their top priority. Achieving the huge mental mind shift so that talent management functions are seen to be as vital as, say, sales or product development, canonly be driven by the CEO. According to Bloomberg Chairman Peter Grauer, GE's Jeff Immelt spends fully 40% of his time on talent, a necessary investment to maintain a full pipeline of well-trained talent ready to assume leadership roles. By contrast, a company where the HR departments are treated as second class citizens will ultimately lose the talent war.
Treat your talent as colleagues, not employees. People are now expected to have 11 jobs by the time they are 50. So employees who feel mistreated, discouraged, or poorly managed will soon be out the door. Companies who want to buck those statistics by treating their employees "well" have to fundamentally rethink the traditional employer / employee relationship as one that's fully reciprocal, and recognize that the formerly autocratic, top-down, command-and-control structures are so last century.
Access to talent is more important than owning talent. Many workers, especially Millennials, women, and near-retirement baby boomers want a different relationship between life and work – they want variety, control, and purpose. Recent data shows that in the U.S. today 53 million people – about a third of the workforce – are doing freelance work, and by 2020 that number may be as high as 50%. This means companies need to develop the new muscle that lets them find and deploy talent without always bringing them on board as traditional full-time employees.
Invest in your talent relationship – for life. Thinking that it's a waste of time to invest in the leadership potential of an employee because he or she might take those skills elsewhere is short sighted. Helping workers grow–by giving them exciting assignments, providing mentors, and training them to be leaders – is the best way to build loyalty not just while they are working with you but throughout their entire The more employees believe they've benefited from being associated with a company, the more likely they are to remain long-term employees. But even if they do go, chances are you've earned their lifelong status as an enthusiastic advocate on your behalf. GE and McKinsey are renowned for successfully adopting this model as their alumni have spread throughout the global economy, bringing enormous benefit to both firms over the years.
Help talent find meaning in their work. As money ceases to become the primary motivator behind a job or career choice, today's workers increasingly want to find a convergence between "what I do" and "what I am." Workers want to believe they are contributing to something with purpose. Help them stay engaged with interesting projects; help them understand the broader mission of the company; keep them in the loop on how their work makes a difference. Assuming that monetary rewards are the motivator for outstanding work can quickly become expensive as your talent walks out the door; learn how to cultivate psychic rewards as well.
Bonus Insight: It was extraordinary and important to see Mike Milken and the Milken institute shine a huge spotlight on the need to improve the condition of women around the world. And, Mike and Peter Grauer's call to have more women in the boardroom and at the top of companies together with their commitment to making it happen may be the most important talent campaign of all.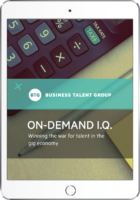 Introducing the New Talent Economy
Learn how to put the gig economy to work on your top business initiatives.
GET THE EBOOK
About the Author

Follow on Linkedin More Content by Jody Greenstone Miller