Here in LA, where some of the best minds in business are converging on the Milken Institute Global Conference to share survival strategies for this era of creative disruption, it's not surprising to think that some of the answers might come from our own back yard.
For example, back in the golden age of Hollywood, the big movie studios controlled an actor's career by forcing employ with just one film company. Today, every actor today is in charge of his or her own career, moving from project to project with producers and agents assembling a new team for each film. Where Hollywood is today is where the rest of the economy is headed, fast. In the U.S., 53 million people – about a third of the workforce – are doing freelance work.
Whether we like it or not, the place where we spend a third of our lives – the workplace – is changing profoundly. The days when employees stayed with companies from college to retirement are long gone; Instead, as a Deloitte report stated, "access to talent is more important than ownership of talent."
Accelerating this change are converging demographic trends: Retiring Baby Boomers are leaving huge knowledge gaps, while the Millennials replacing them reject antiquated notions of company loyalty –and why not since no one can guarantee them a job for life? Technology is also changing the way we hire, retain and think about talent.
So while a managers' primary job was once to develop internal talent, today's premium is on managers who are flexible and innovative about how to make this new workplace work for them. For employees this means "owning" your career; for employers it means drastically rethinking how work gets done, making sure that learning continues and that diversity keeps pace with the changing world around us.
Join me on Tuesday at 2:30pm for a Milken Global Summit discussion with business leaders about how to think about the future of work.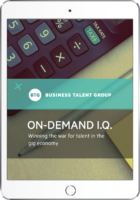 Introducing the New Talent Economy
Learn how to put the gig economy to work on your top business initiatives.
GET THE EBOOK
About the Author

Follow on Linkedin More Content by Jody Greenstone Miller