Our CEO Jody Miller, wrote this piece about navigating a career pivot which appeared in the February 2015 issue of MORE Magazine.
Do you have to follow the career path you chose when you were 22 years old? Or the career progression your company has laid out for you? [Should you wait until you are forced out of a job or bored stiff to begin thinking about your next move?] In a world where the average American will have 7 different careers and at least 11 jobs during their working life, learning how to manage a career pivot is a "must have" skill.
A career pivot means taking a completely different direction in your career: adding a new skill, entering a new industry or working a new way [i.e., less than 40 hours a week, virtually, or as an independent professional].
I'm on career number 7 and job #12 and I've learned 5 things that can help you pivot:
Sync up your career life cycle with the rest of your life cycle. In "traditional" careers we often tend to be busiest at work when we are also busiest in our lives. Understanding what you want out of your career and when you want it is the first step in navigating a career pivot. I always wanted to lead a business – but when opportunities arose at a time when I also wanted to spend time with my new husband and my new daughter, I decided to pivot to venture capital. In venture capital I was able to work fewer than 40 hours a week (something I couldn't do in the corporate world), grow my skills and prepare to start a company when I was ready.
Fill your skill gaps. It's never too late to get new skills. Think about internships and apprenticeships (these are not just for the kids).
First get busy, then get picky. A top media executive who decided to pivot to the technology world told me that he started by offering his help to lots of technology companies so he could learn the industry. Then he got choosey about which companies he really wanted to work with. Jump into the area you want to go into, figure it out, then hone in on the right move.
Be independent. There are many opportunities today to try things as an independent professional. Do a project in the industry or field you want to pivot to. It's lower risk for everyone.
Embrace the serendipity. I never could have planned my career. If you plot my path it looks like a crazy rollercoaster [show graphic?]. I've been a lawyer, a political operative and a White House staffer. I've been a media executive, an investment banker and a venture capitalist. Now, I'm an entrepreneur.
There is no right way to pivot – everyone will have a unique path – but "pivoters" will be the ones best suited to adapt to our fast changing world and create 21st century careers that work for them.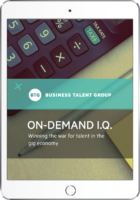 Introducing the New Talent Economy
Learn how to put the gig economy to work on your top business initiatives.
GET THE EBOOK
About the Author

Follow on Linkedin More Content by Jody Greenstone Miller