Forget about better scheduling. Forget about cloning yourself. What high-growth company execs need isn't more of themselves… it's less.
If you have a minute—and I know time is precious—I'll tell you what I mean.
A typical startup is scrappy. The founders work crazy hours and wear a lot of hats. Strategy, sales, finance, HR, marketing, product development, you name it. Early success and great metrics can lead to a big Series B or C round of funding, and suddenly there are more financial resources. What's the best way to use that money?
Most startups focus on hiring more developers and professionalizing the sales team. That makes sense. What they don't do? Take off any of those hats.
As a founder, you know your time is the company's most valuable resource. So when you raise a big round of funding, you should theoretically delegate more and focus on higher-level tasks. Too often, though, the CEO is still up all night tinkering with QuickBooks entries and PowerPoint slides for a big board meeting.
I get it. It's hard to let go. It's also not practical to think that you can immediately hire senior-level help across all functions. Interviewing alone can suck up days on end. Full-timers also come with benefits—healthcare, vacation, employer tax, and so on—that account for around 30% of an already sizeable salary. And you obviously want to keep your overhead and your burn rate low.
So what do you do? You outsource.
I'm not suggesting you turn over all of your mission-critical strategy work to external consultants. But your time is limited, and when your company is mature enough to have a scalable business model, it can make sense to bring in outside expertise to help you achieve that scale.
It doesn't have to come with the bureaucracy of the traditional consulting shops, either. Think about what crucial projects you could delegate to an experienced expert or two—whose wisdom has been honed over the course of years of engagements, and who could come on an as-needed basis.
1. Financial planning & reporting – Need to standardize your financial reporting? Get someone with actual business planning experience, not just an accountant. Have you spent hours honing next year's financial plan? A bridge exec—someone whose role is different than an interim exec, and who can help with near-term priorities without setting the team's long-term direction—can give you expert-level advice and reporting without the expense of a CFO… or buy you some time while you search for the perfect permanent resource.
2. Board presentations – These consume tons of time on a regular basis. What if you hired another consultant, or the same finance/strategy person, to create them… and spent your time thinking about strategic issues, not formatting charts?
3. Marketing, Sales, Product, HR – Experienced consultants can help you scale and professionalize without the commitment, cost, and benefits of a permanent hire. Think about the advice you get from your mentors and investors. Now imagine you could call upon someone with an exact set of skills and experience, who knows everyone in the industry and all the agencies, and who's done exactly what you need to do for a dozen other companies. Why re-invent the wheel?
There are two truths to recognize here.
First, not everything needs a full-time commitment. Advanced analytics, pricing strategy research, and financial modeling are often projects, not positions—like experienced legal counsel, they are critical at certain moments of your company's life, but not worth retaining 7 days a week. Other times, you might not be able to afford a senior hire, or maybe you don't know what you'd do with a permanent resource once a key project has been completed. You can outsource inject expertise where it makes sense for you, and pay only for the functions you need.
Second, as I mentioned earlier, finding the right full-time person can be a full-time job… and it's one you don't have time for now. So while you're out searching for someone with the right skills, location, culture fit, and financial expectations, a consultant can fill the gap and keep things running smoothly. In fact, a consultant can help you recruit and vet the ideal hire – often helping to map out what the function or team should look like so an incoming hire has an easier time hitting the ground running.
What's more, projectizing your work—breaking it up into more modular and accomplishable components—is a great way to get your team to define goals, deliverables, and due dates.
Of course, it all depends on your needs. Many startups are founded by people who have vision and energy, but lack experience. For them, consultants offer smart, speedy insights that are informed by the work they've done at countless other companies. Other founders have more experience, but lack time. Though as we all know, "not enough time" is a challenge that everyone faces.
External consultants are an expense you can turn off and on as you choose. More importantly, they give you the hard-won privilege of focusing on what matters most, and making yourself scarce in other areas.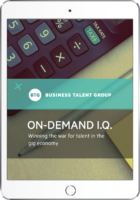 Introducing the New Talent Economy
Learn how to put the gig economy to work on your top business initiatives.
GET THE EBOOK
About the Author

More Content by Tania Suster