When most people think of the "gig economy," the gigs that immediately come to mind are often the ones we associate with our everyday lives—the ones that are within a few taps' reach. Need groceries? Tap, tap, tap. Need a ride? Tap, tap, tap. Need temporary housing halfway across the world? Tap, tap, tap.
These might be the most visible representatives of the gig economy, but they don't comprise its entirety. In fact, as a recent report from Civic suggests, they only begin to hint at its full potential.
Civic interviewed numerous executives, experts, business leaders and analysts to define and examine a growing subset at the high end of the gig economy: the expert economy. These highly paid, highly skilled workers enjoy the same freedom and flexibility as other gig workers, but while technology helps facilitate their role, it's unlikely to ever completely replace it.
That's because, according to the Civic report, there's no substitute for human experience. Individual expertise is more than the sum of its parts, making it uniquely valuable. Whether we believe it or not, we're all experts at something—and that knowledge is worth something to someone else. This is the basis for the expert economy.
Twin engines of the expert economy: technology and innovation
With all the data and information available to us today, expertise seems an unlikely commodity. Yet, interestingly, the more sophisticated technology gets and the more complex the world economy becomes, the more valuable specialized knowledge grows. Innovation is the door to competitive advantage, and targeted expertise is the key.
According to interviews and surveys by Civic, the most common reasons why businesses seek specialized expertise include needs for:
Fresh thinking
Flexibility
Faster innovation
Objectivity
Greater agility
Knowledge of unfamiliar markets
Insight into emerging trends
Virtually all of these needs are motivated by the desire to innovate, but technology's influence cannot be denied. Professional learning firms use AI to help match talent with projects, and online marketplaces make it easier than ever for executives to connect with on-demand experts. As the Civic report notes, "digital connectivity can overcome physical constraints to accelerate innovation anywhere."
And just as ever-greater technology fuels ever-greater innovation, the reverse is also true. Whether it's a new product, service or process, the technology must be developed to support it—further reinforcing the critical need for specialized experts.
The network effect
The allure of the gig economy is the same on both sides of the table: cost-effective flexibility. Connections are made when mutual needs align. But at the heart of the expert economy lies what Civic describes as "companies' unquenchable thirst for knowledge." Sometimes this manifests as an hour-long phone call with an expert; other times it might mean embedding a knowledge worker in a project for months. Though the solution must be quick, it can't be arbitrary.
Whereas Uber, Instacart, and AirBnB pair gig workers with customers based primarily on proximity, professional learning firms and on-demand talent platforms like Business Talent Group dig a lot deeper to match specific expertise with project needs. They do more than just connect experts and executives—they also source and vet talent, negotiate contracts and put compliance protections in place.
Be careful not to confuse on-demand experts with traditional consultants, however. The former is more of a supplementary tool for smaller, more focused projects, whereas the latter is usually reserved for enterprise-wide undertakings such as business restructuring.
The educational makeup of expert networks is also distinctive. Civic found that, "41% of independent contractors have 4-year college degrees, while 19% hold advanced degrees, proportions that are both larger than the general population, according to Census Bureau data." At BTG, 78% of our independent consultants have held director roles or higher at major corporations, and 80% hold advanced degrees.
Obstacles to address
Civic reports that the expert economy is now a billion-dollar business that's composed of more than 1.5 million experts. Yet many businesses still haven't taken advantage of this vast knowledge network simply because they don't know how.
The demand is there, the technology is there, but often what's missing are the business practices that make it possible to properly leverage these opportunities. Without the right processes for managing an external workforce, it's tough to attract and retain experts. And if culture and strategy are misaligned, the implementation of expert advice can be impossible.
What's more, the expert economy suffers from the same lack of a social contract that the larger gig economy does. Despite the potential global economic benefits attributed to the rise of independent workers, few working in this sector can claim the same civil rights, health insurance, and tax benefits that full-time employees enjoy.
Civic proposes a potential solution: portable benefits that workers take with them from one project to the next. Companies hiring external workers would "contribute to their benefits at a fixed, pro-rated rate based on how much work is completed."
Currently, New York's Black Car Fund is one of the few organizations that supports benefits for independents, but with how quickly demand is growing for specialized experts, the expert economy could become a catalyst for policy change throughout the gig economy. If we value human knowledge to the extent that Civic asserts we should, then basic protections shouldn't even be a question.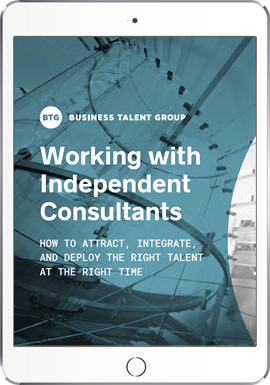 Working with Independent Consultants
Download our new eBook to learn the best practices we've honed across 10+ years of working with independent consultants and F1000 companies.
GET THE EBOOK
About the Author

More Content by Emily Slayton