When companies turn to large consulting firms, it's because something unusually important is on the line: a business unit or corporate strategy, the turnaround of an underperforming business, or the launch of a major new product line.
But success is about more than selecting the right firm. It's about understanding and planning for the entire project's lifecycle—and knowing what steps you'll take throughout, from hiring the consultants to signing off to your CEO or Board that your strategy execution has been a success.
In particular, you will need to prepare for handling the dual competing priorities of implementing your new strategy and managing your ongoing business. What is your team supposed to work on first? Is there a "first?" How will you manage the inevitable claw-back that occurs when people prefer their old methods to the new ones and confuse "ongoing business" with "business as usual?"
Fortunately, there are steps you can take to bias your project towards success. So go ahead and hire the Big Three firm that delivers the best strategy, and rest assured that there are measures that you can take both during and after their engagement to set yourself on the right course.
1. Get involved
You're probably hoping the strategy consultants you've hired will save you time. After all, you and your colleagues have your hands full managing your day-to-day responsibilities (and no-one particularly relishes the idea of getting involved with a lengthy and potentially mind-numbing analysis). Not true!
As expensive as it is to work with a large consulting firm, the only thing that is more expensive is to hire them and then not fully engage with them. Why? Because you'll end up with a product you don't like or can't use. The consultants on your team may be smart, but they don't really understand the finer points of your business. So make sure you budget enough of your team's time to collaborate and engage with your consulting firm. This will work to your advantage later on, when you are implementing plans that better reflect how your company actually works.
2. Test and adjust
The excitement of the final presentation has worn off, and it's time to plan for the transition. Implementing a big strategy is a lot of extra work on top of ongoing business. It's also not without its surprises. A good consulting team will have left you with a top level implementation plan. However, "everybody has a plan until they get punched in the mouth," in the famous words of Mike Tyson.
That's why it's critical to test key assumptions early in the process. As you start implementing, you'll almost certainly discover components of the strategy that are only directionally correct, and that need to be sharpened or reassessed.
When this happens, it's important not to ignore the warning signs or pretend things will work out eventually. If the people who are doing the work tell you it can't be done, you should reevaluate your approach. You ignore them at your own peril!
However, when you need to fine-tune your approach, the people you task to make changes better not be the same ones that have to deliver your quarterly or year-end numbers! Hope is not a good organizing principle, so you need to decide how to handle these conflicting priorities ahead of time—a nimble process for reassessing your priorities when you're mid-execution and something unexpected comes up.
3. Apply targeted strategy execution help
You've spent a lot of money on strategy, and you've got smart people on your team. You can stretch your resources by putting them in charge of strategy execution, but will that actually bring you results you need? More likely, your team will find that trying to manage its daily responsibilities and execute the strategic plan means that neither gets done effectively.
So what are your options? Some large consulting firms will offer to leave a consultant or two "behind" to help. But you don't need advisers or analysts at this stage—you need "doers." Better, in my view, to engage independent consultants to guide the execution and solve implementation-specific problems. Their independence pretty much guarantees that they won't get pulled into ongoing business, yet they can assume responsibility for all the temporary activities that relate to implementation and that disappear afterwards.
Because they operate without the overhead of a big firm, these consultants are cost-effective. Because their ranks have grown dramatically, you can now find consultants with skills that are highly relevant to your specific project. And because of how these consultants train, they have probably worked at a traditional consulting company and a company like yours anyway.
Why is that important? Sometimes, knowing what not to do is as important as knowing how to do it. There's a lot of frictional work involved in creating and executing strategies: running a process, interviewing stakeholders, tracking down and validating numbers, setting up spreadsheets, and so on. Without a sense of focus that is informed by experience, it is easy to get lost in the weeks. I began my career at McKinsey, and when I was told we needed an analysis, it was like the request had been handed down by God.
"
When you're executing a strategic plan, it can be critical to know what
not
to do.
"
Unfortunately, when executing a project in a large company, someone always wants more data, it is always easy to request an extra analysis, and the expectation is often that you say "yes" to one more request. However, saying "no" to the "right" request not only saves time and money, it also helps everyone focus on what's most impactful.
In one engagement, for instance, the strategic planning process called for us to connect a set of key numbers across manufacturing facilities. In an ideal world, it would have taken a couple of days to collect these numbers, which everyone agreed initially should be easily available. However, in the reality of a multi-national organization with several divisions and business units and competing priorities, it was going to take weeks to identify, approach, convince, and solicit line managers in 30 different plants worldwide and to obtain a credible data set. And while the data would have been nice to have, it turned out not to be compellingly necessary for our broader goal of estimating the investment need for capital upgrades at this stage. So in this case, the value of the outside expertise was to push back and to help develop a rationale for waiting.
Time vs. Money
If you're like most big company executives, you have a ridiculous number of personal objectives, and you're constantly trying to balance big priorities against limited time. Now that you have finalized your strategy, you don't want to have to spend endless hours managing its implementation. Independent consultants can work with little oversight, and they know how to get up to speed quickly in complex situations. They won't damage your P&L by staying longer than you need them to and if they don't perform, they are easily replaced.
If the prospect of scouring your personal network for an independent consultant with the skills to solve your specific problem gives you pause, consider engaging a talent firm like BTG. They can help you define the project's size, scope, and dynamics, and connect you with people who can deliver against your problem, often faster than Purchasing can handle the paperwork.
Given that between 50 – 90% of strategic initiatives are said to fail, the stakes are hardly insignificant.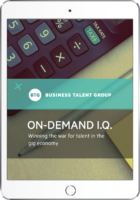 Introducing the New Talent Economy
Learn how to put the gig economy to work on your top business initiatives.
About the Author

More Content by Thomas Collet